In this article, I will cover some of the best gift ideas for hockey players.
This article was written with Christmas gifts in mind, but no matter the special occasion (birthday, Christmas, etc), this list of gift ideas will help you find the perfect gift for the hockey player in your life!
Let's get right into it…
1 – Hockey Stick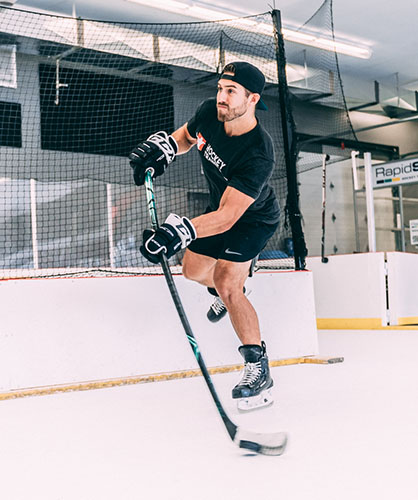 This is obvious, but it had to be included first on the list because of my fond memories of getting a new hockey stick at Christmas as a kid.
A hockey stick always makes a great Christmas gift.
Remember, though, depending on the age of the hockey player, they may be very picky about the pattern (curve), flex, and brand of the hockey stick.
If they aren't picky (or are too young to know the difference), I love the CCM JetSpeed Sticks right now.
Or if you want a bit cheaper option and want to support a small business, check out the No Name Hockey sticks that performed pretty well compared to the top-of-the-line sticks out there.
And, hey, a wrapped-up hockey stick isn't fooling anyone – so keep it a surprise and don't put it under the tree until Christmas morning!
2 – Innovative Hockey Bag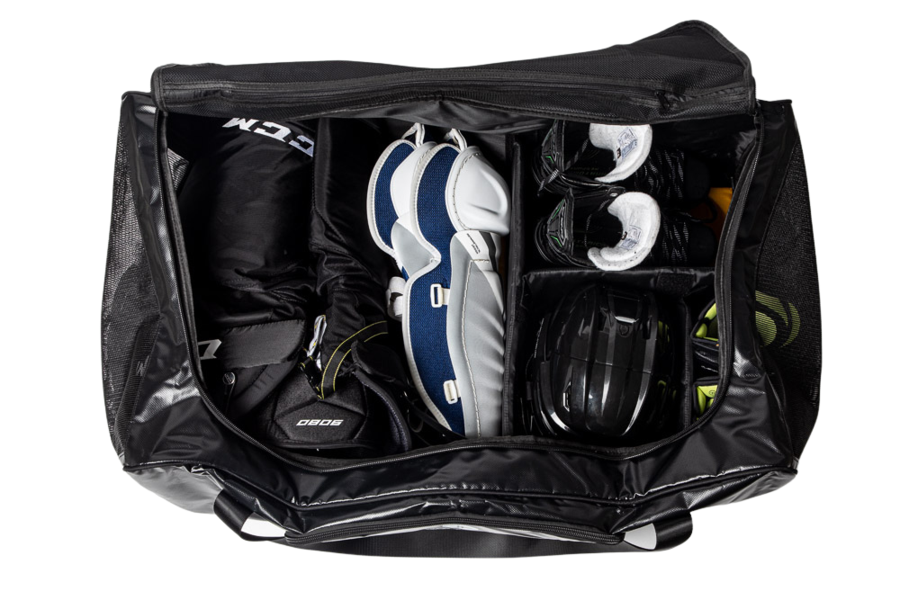 For the first 25+ years of my hockey-playing career, hockey bags were pretty much the same. Just a bag with maybe one or two extra compartments on the side. But there has been a lot of innovation with hockey bags lately.
One of the brands that stick out for me is Conway and Banks (pictured above). I have their smaller coaches bag for when I'm filming videos, coaching, or hitting the pond for some pond hockey, and I absolutely love it.
Their bag includes features such as a built-in foot mat, removable dividers, plenty of storage for tape or personal belongings, massive air vents, and a massive jersey pocket that is accessible from inside and outside of the bag.
3 – Performance Enhancing Drink For Games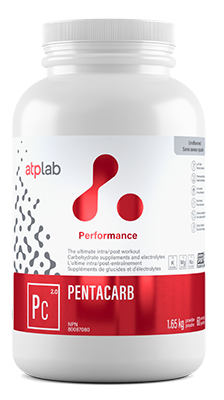 If you've checked out our What To Eat On Hockey Game Days article, you already know that a carbohydrate drink can help performance during hockey games (and recovery for the next practice/game).
A high-quality product, such as ATP Labs Pentacarb, would make a great gift for an older hockey player who wants to dial in their game-day nutrition to perform at top levels (my favorite is the Mango + Pineapple flavor).
4 – Shot Enhancer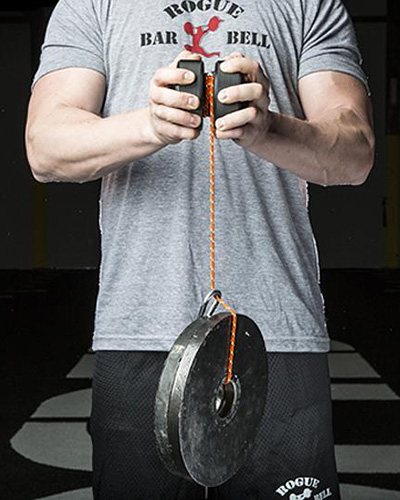 Want to help the hockey player on your Christmas list shoot harder?
Then get them the Twist Yo' Wrist by Rogue. This great forearm and grip training tool will help hockey players work on their shot power, release, and accuracy.
If they are 10+ years old and you really want to help them improve their shot, then pair it with one of our hockey training programs!
5 – At-Home Skills Training Aids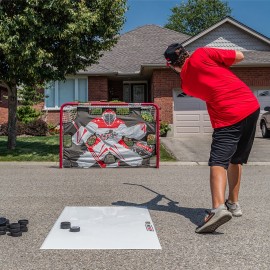 Every hockey player should be doing some training in their spare time at home if they want to improve their skills.
My favorite at-home training aid that would make a great gift would be a stickhandling/shooting pad. This is easily my #1 choice for at-home skill work as it allows you to practice both y our stickhandling and shooting with real pucks. But if you want more suggestions, check out our Hockey Training Aids Guide.
6 – Hockey Breakaway Speed Kit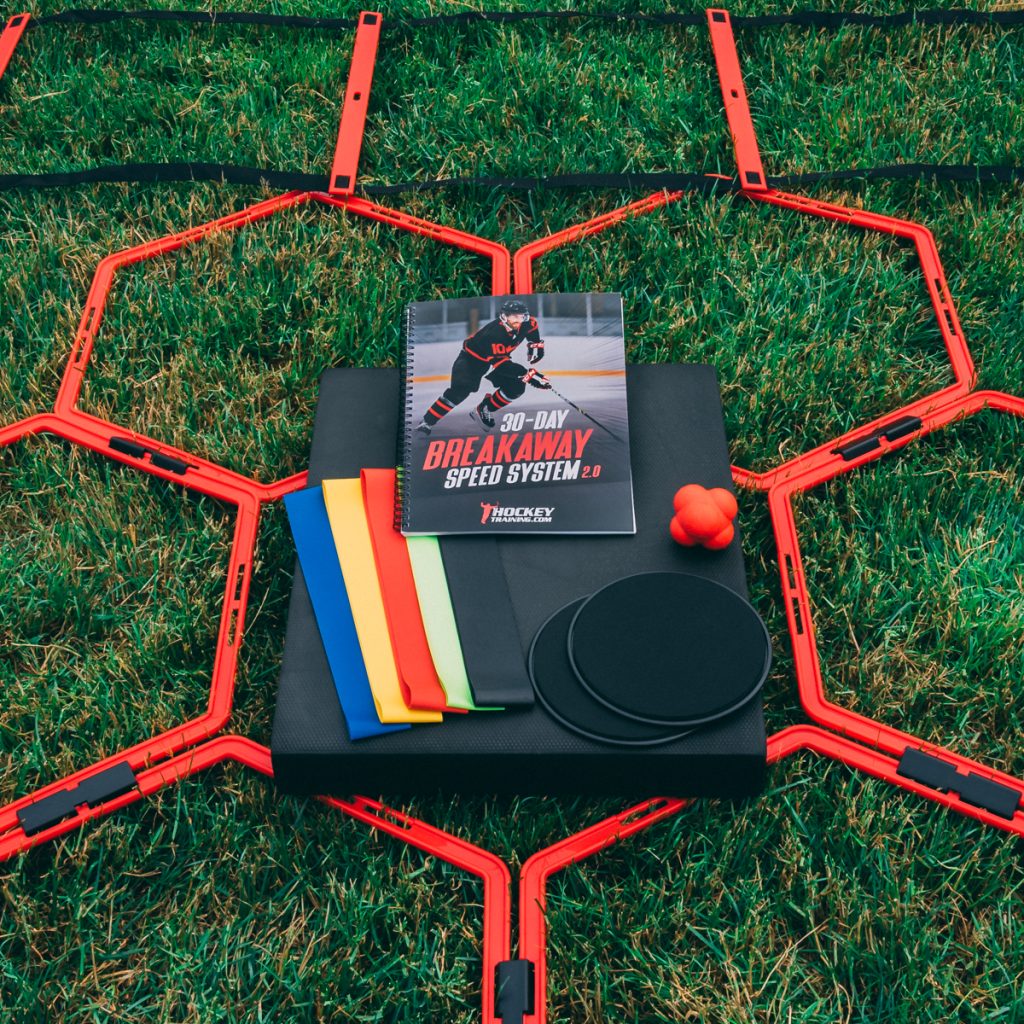 This revolutionary Breakaway Speed Kit is designed to help hockey players of all ages improve their explosive speed and skating stride power.
The kit includes six training tools that all hockey players who want to reach their true speed potential on the ice need, plus our accompanying 30-Day Breakaway Speed System.
If your player can commit to following the system exactly as laid out, you'll discover that by the end of the 30 days, they will be skating faster, have more energy, and dominate the ice like never before. 
You can purchase the Breakaway Speed Kit here.
7 – Motivational Poster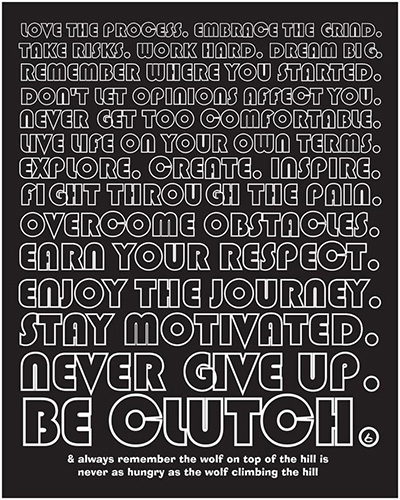 I love this poster created by a buddy of mine who runs a great athletic lifestyle company, "BClutch."
If you need motivation as a hockey player, put this on your wall and read it daily.
At just $14.99, this poster is a great low-priced Christmas gift for a hockey player, and you are supporting an awesome small business (be sure to check out the great clothing as well)!
8 – Gitch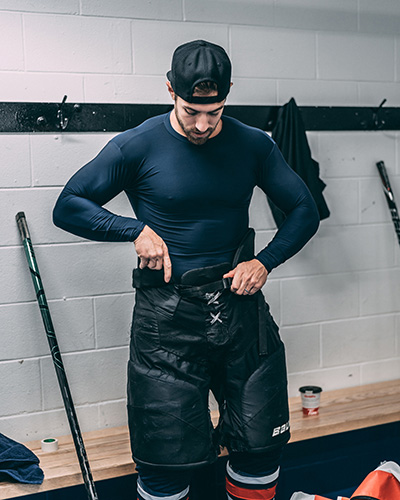 Gitch is basically anything a hockey player wears under their equipment – compression pants, underwear or shirts, socks, etc.
Again, hockey players are usually particular about what they wear under their gear, so for this gift, you will need to do a little research by diving into their beautiful-smelling bag.
But as a hockey player, I know that I love it when I get a fresh set of gitch.
Not only does the fresh set smell nicer, but it also allows me not to worry about doing laundry as often.
If you have no idea what type of gitch they wear but still want to buy it as a gift, I recommend picking up a pair of skate socks that go on their feet (as opposed to hockey socks for their shin pads).
9 – Hockey Tool Kit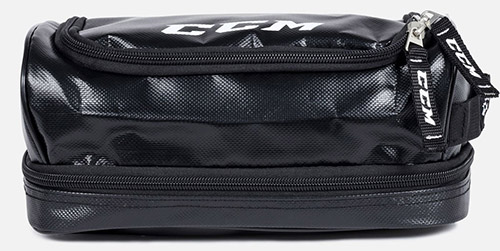 I created a video on my Hockey YouTube Channel showing what's inside my hockey tool kit bag.
But some items that all hockey players would probably love include: small shampoo or body wash bottles (refillable are best), shin pad tape (clear), stick tape (black or white – check their stick), extra skate laces (check their size), small Phillips screwdriver, helmet hardware, deodorant, and shower sandals.
If they don't have a hockey shower/toolkit bag to hold this stuff, that would also make for a great gift. Most big hockey companies make these bags, or you can just with a cheaper unbranded bag if you're on a budget.
10 – Hockey Training TV App Membership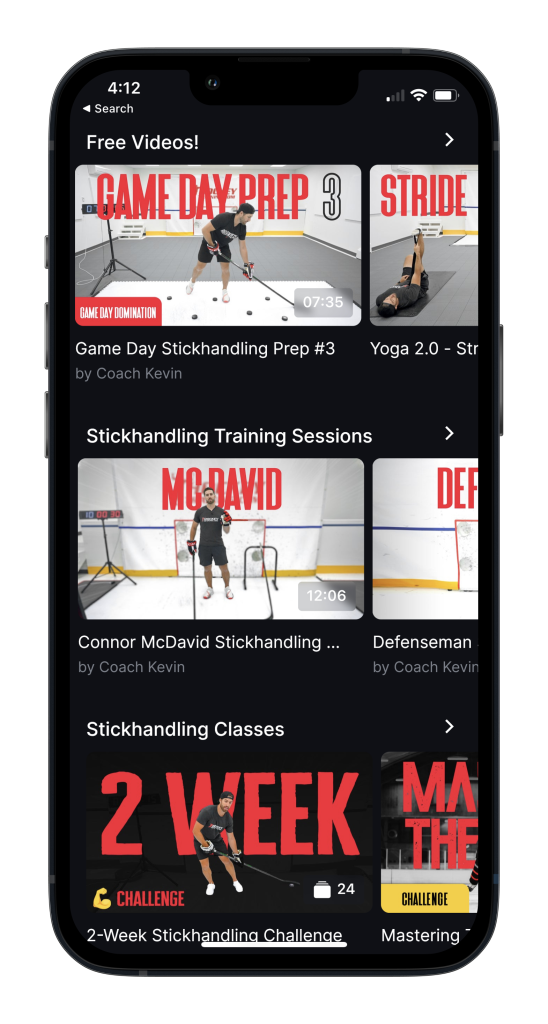 With just a stick and puck, players can download the Hockey Training TV app to their phone or tablet and be coached by me through stickhandling training sessions from their driveway, garage, basement, or even bedroom (if mom will allow that, haha).
Here's what you're getting with the Hockey Training TV subscription:
➜ High definition follow-along workouts that can be accessed on a phone or tablet via our iOS and Android apps, or even on a tv! (With 24/7 "go anywhere" access your kid can knock out these workouts from home… in the backyard… and while on vacation).
➜ How to train like an NHLer from home! (These indoor hockey training workouts and techniques are the same thing that the pros use to tighten up their skills and compete at the highest level)
➜ A 1-on-1 personal trainer experience right in your living room! No need to drive anywhere! Plus, you won't pay a single dime for this top-of-the-line training experience!…
➜ The 9-minute total body conditioning workout that's proven to help players be stronger on the puck… faster on a breakaway… and in better condition than anyone else on the ice…
➜ Stickhandling training modules that'll make them a master with the puck… and able to put defenders in a spin cycle with ease…
➜ New "hockey yoga" moves that improve mobility from head to toe and gives players the ability to move freely and unrestricted
➜ The most convenient solution for hockey players of all ages and skill levels who are serious about maximizing their potential and becoming the best hockey player they can be!
You can sign up at HockeyTraining.tv and select "Buy as a Gift" when you are at checkout to allow them to set up their own account.
Have A Merry Christmas!
Thanks for reading my Gift Guide For Hockey Players.
Here's a little bonus recommendation for you…
Christmas is about giving, so consider checking your local area to see if there's anywhere you can donate to families with hockey players who are in need.
I know here in Canada, Canadian Tire has a great program called Jumpstart that helps kids have equal access to sports, and I'm sure there are similar programs in your country.
Lastly, I'm sure we will have most articles posted before the New Year, but I also wanted to say thanks for all of your support this past year.
I hope you have a Merry Christmas and Happy Holidays!