If you are serious about becoming a better hockey player we have a training program to help you take your game to the next level.
Off-Season Training System
Have the best off-season of your life by ditching outdated training methods and utilizing the ⚡️ GameSpeed™ System ⚡️.
The GameSpeed™ hockey programming scheme has deep roots in sports science literature and is your 3-Step solution toward maximizing all hockey performance metrics to bring your most "complete package" to the ice this year.
Your off-season workout success depends exclusively upon your training organization because even a great workout performed in the wrong order will still yield little to no results.
Here's how the pros get it done:
STEP #1: Performance Activation Potentiator: A hockey-specific PAP routine is performed after your warm-up but before your workout and it consists of a series of multi-directional explosive movements to improve all-around skating speed and activate your nervous system pre-workout for more effective fiber recruitment during your main session.
STEP #2: Hockey IQ Enhancers: It is impossible to perform at your best until your Hockey IQ is just as dialed-in as your physical abilities. This is why it is imperative that you perform a select set of "tip of the spear" hockey-specific drills within certain rest periods of your functional strength training organization so that you can train your body to be patient with the puck, keep your head up, and execute flawless technique even in high-pressure situations.
STEP #3: Movement Optimization Protocols: If you're not finishing your workouts with a MOP routine this off-season then you're going to be behind everyone else who did. This "loaded stretching" sequence is the only routine in existence that will improve explosive speed, agility, mobility, fast-twitch fiber recruitment capacity, and injury resilience all in one "finisher" circuit.
This bullet-proof workout structure guarantees all-around performance development no matter what age, current playing level, or access to equipment you have.
The best part?
You will also be incorporating the cutting edge 7-Day Mobilizer Routines, Elite Edgework Sequences, and Progressive Skill Development days throughout the off-season on your recovery days so that no matter what day it is… you will always be taking one step closer toward your hockey dreams using only the best science-backed methods in existence.
It's 2022…
That means it's time to ditch the old-school ideologies and start using the formulas and tactics in the modern era to get you faster results than ever.
If you're serious about becoming a better hockey player, then tap on the blue button below and Coach Dan will see you for your first coaching call (yes, you get those too!).
In-Season Training System
If you want to feel explosive and fresh every time you step on the ice this hockey season then you'll want to see our newest hockey training system.
Here's the scoop:
Coach Dan and I have spent countless hours at the Hockey Training HQ creating our new training system called:
FRESH FACTOR™
It was engineered to keep hockey players of any age and ability feeling explosive and fresh for all three periods, all season long. It's like a cheat code to dominate every time you step on the ice.
However, before checking it out, realize that this system isn't cheap.
And, it's also going to require some commitment (So if you're a hockey player who isn't willing to do what it takes to be the best player on the ice, this program is not intended for you.)
To help you decide if it's a good "fit," here's a look at what's inside:
>> A special kind of strength training that uses plyometrics to keep your hockey-specific strength and explosiveness at peak levels all in-season long.
>> A counter intuitive way for improving your conditioning and stamina by using skills drills within your hockey training sessions.
>> A clever "tool" that NHL teams implement to help their players recover faster… and how to use this same method to ensure you're playing with 100% energy (even when your schedule gets busy.)
>> The 7-minute trick that will improve your stickhandling… while also getting warmed up for your game at the same time!
>> An ingenious 2-step method that will give you an immediate "pep-in-your-step" each time you step on the ice so you can play at your best game in and game out. (No more slow starts or "off" games.)
And a whole lot more, including:
The secret to reducing total body injury risk and eliminate joint pain… How to mobilize the ankles (for better edge work)… The exact foods to eat after your games to recover better… and, even…
How to stimulate an upload of nutrients and flush our fatigue by-products to provide you with an increased level of power and stamina the next time you hit the ice!
This is a step up from the old-school "ride the bike" method nearly all pro teams had been using until recently.
Anyway, I could go on and on.
But, here is the bottom line:
This year's In-Season Domination '21 System is packed full of in-season-specific training sessions and routines, showing you exactly what to do and when depending on your on-ice schedule each week.
And it's the most revolutionary In-Season Hockey Training System that's available to the public anywhere in the world.
Tap on the blue button below to grab your copy of the new In-Season '21 System while it's still available…
Men's League Training System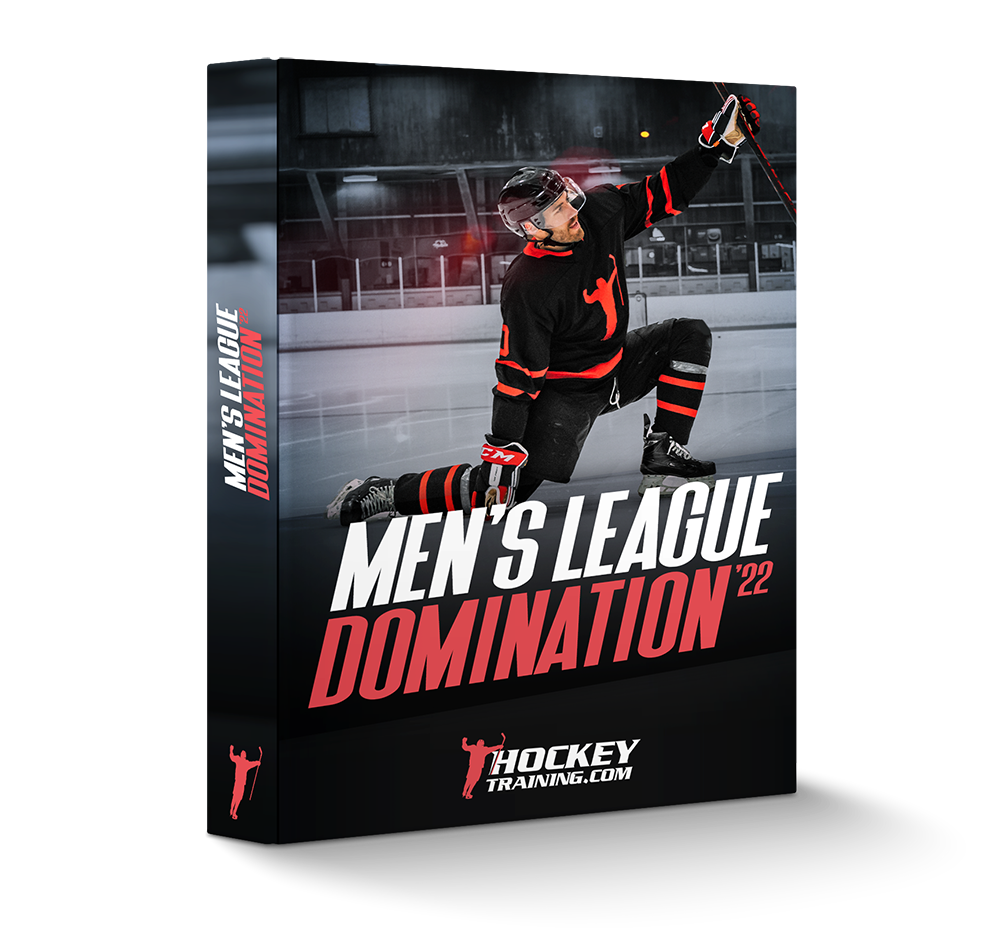 As men's leaguers, we aren't going to meet our childhood dreams of making the NHL, but we can still feel good about how we play and have the thrill of being the player everybody wants on their team and teammates want to play with.
Just imagine the look on your teammates' faces when you fly across the ice, leaving the other team in the dust and rip a shot top corner that bottle rockets the goalie's water!
It's all possible with our newest Men's League Hockey Training System. Simply follow the training sessions (at home or at a gym) and watch as your hockey performance rises to levels you've never imagined!
Our new SmartPower™ workouts are a way for hockey players to train their explosive speed, functional strength, power, and conditioning in one workout – while training in an intelligent way that won't beat up your joints and will allow you to accomplish it all in less time.
Essentially we've packed the results of a seven-day-per-week program that you might see an NHL player using in the off-season, into a much simpler 3x-per-week program to make it work better for our lifestyle and schedule.
You may not see any changes after one or two workouts, but follow the system exactly as laid out. Within weeks you will be skating faster, have more energy, and dominate the ice like never before.
Certified Hockey Training Specialist Course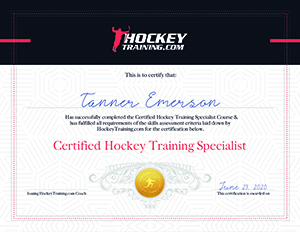 Make your dreams of becoming a sought-after hockey trainer come true… With the first-ever hockey-specific training and coaching certification designed EXCLUSIVELY for training hockey players at any level — from beginner to advanced.
By the time you complete this detailed and user-friendly course, you'll be considered a Certified Hockey Training Specialist with the ability to transform any hockey athlete's game using an exciting, scientific, and practical approach to training…
All you have to do is "plug n' play" the information from this 16-week course and instantly become a respected, authoritative and celebrated coach athletes will drive miles just to train with because of the big on-ice improvements you will help them achieve!