In this article, I'm going to show you precisely what you need to create a cost-efficient limited-space gym for hockey training that can fit in any house.
If you're checking this out, you either already have a home gym or have been seriously thinking about putting one in your house.
This is an excellent idea for several reasons:
You save multiple hours every week with no commuting to and from the gym
You save hundreds of dollars every year not paying any gym membership
Nobody is ever on any of the equipment you want
You can play your music as loud as you want without headphones
You can set it up exactly the way you want to
Among many other reasons, I could list off the top of my head, and to be honest, as a hockey training nerd putting a home gym together was something I found exhilarating.
But, the devil is always in the details.
Although a home gym can be a great idea, I've seen a lot of terrible home gyms.
It all comes down to your budget, goals, and available floor plan.
Because of this, I want to discuss:
Basically, by the end of this article, you're going to know exactly how to set up a killer, affordable, and effective home gym for hockey that lets you do (almost) everything you can do (or at least would want to do) at a commercial gym in the convenience of your own home.
Before we get into it, though, I want to provide the disclaimer that I am assuming you want to build a gym inside your house and that you will not be needing any of the outside equipment associated with speed, conditioning, agility training, and hockey skill development.
For my recommendations in that department, check out this article.
The Best Home Gym Equipment for Hockey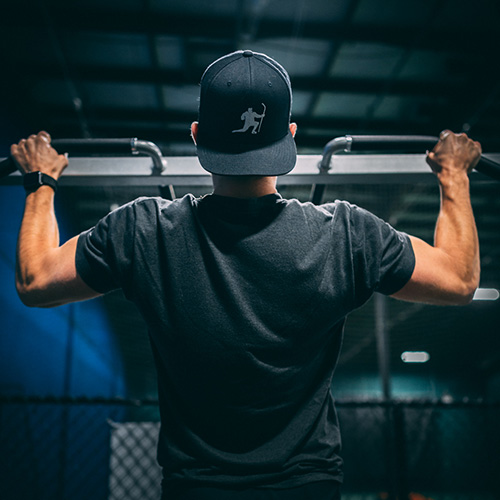 One of the reasons more people shy away from building a home gym is they think it's going to have to take out another mortgage just to pay off all the equipment.
This is true if you buy all of the bells and whistles that are found in commercial gyms, but this is often unnecessary.
If you're looking to become a better hockey player, you don't need very much.
Just a few key pieces of equipment will allow you to do most of the exercises that deliver the biggest bang for your buck towards improvements in skating speed and explosive, strength, stability, and balance.
The main pieces of equipment you're going to want are as follows (and in this order too):
Adjustable/Selectorized dumbbells
Pull up bar
Adjustable bench
Suspension straps
Bands
Medicine ball
Stability ball
Ab-wheel roll out
Jump rope
The best part?
All of this can fit into a very small pace.
In fact, I have all of the above within a small bedroom in my basement.
The next list I am going to create for you is what I would consider being "luxury" home gym options that are great to have if it's in your budget to spend.
The luxury items I would include in your home gym if you can afford it no problem are (again, in this order too):
Power rack with a barbell
Olympic weight plates
Rower
Glute-ham raise
Deadlift platform
Dip station
And finally, here are some items I would consider "non-vital" to becoming a better hockey player. Still, they could totally be incorporated into a well-designed hockey training program for some more variation.
Here is the non-vital equipment, but this time in no specific order as I consider all of these "add-ons":
Yoga mat
Chalk
Dip belt
Weighted vest
Wall mirrors
Wrist straps
Bluetooth speaker you can hook your playlist up to
If you have any combination of the above three lists, you're going to be able to do all of the most important hockey training exercises you would ever need to improve your all-around hockey performance.
Where Should I Set Up My Home Gym For Hockey?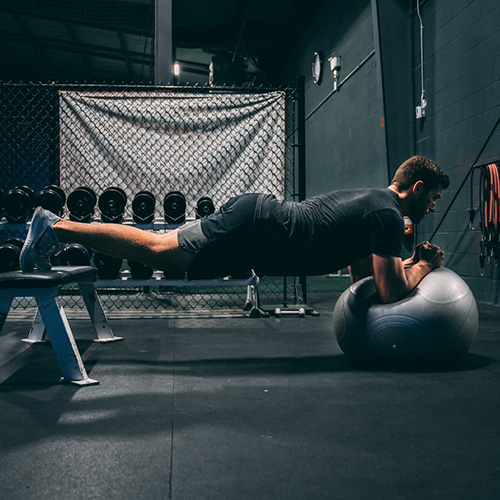 I highly recommend you pick a room that has a concrete floor, like a garage or basement.
I also recommend you set up your home gym in the basement or in the garage because working out on an upper floor, and deadlifting in particular, can scare the crap out of other people in your house and will most likely damage your floors.
Having said that, even if you set up your gym on a concrete floor, I strongly recommend you lay down rubber tiles if it's not already on some carpet that you don't care about.
If you don't have a big space you can get creative. You can always store away the equipment and bring it out for your training if you can't dedicate a space to your home gym.
How To Implement Your Home Gym For Hockey
Even if you only get the first list of items that I suggested above, you can still run any program here at Hockey Training.
Sure, you'll have to make some substitutions here and there, but that's as simple as shooting Kevin or me an email and asking what you should replace it with.
We will get right back to you in a timely fashion with an adequate substitute that you can do at home.
Home gyms are super underrated, you can perform even the most advanced hockey training programs in them.
Fancy equipment doesn't make a program advanced.
The program design and the application of volume, intensity, and frequency behind what you're trying to accomplish are much more important.
You don't need to be a part of a gym if you don't want to, and even if you like the commercial gym that you go to, it's still nice to have a "back up gym" right in your home for those crazy days when you can't make the commute.
If you want to learn exactly how I implement a home gym into my training routine what this video:
If you're thinking about getting a home gym, the above video is a must-watch as I run through things physically that I simply can't write about in enough detail here.
Final Thoughts
You will find many of my recommendations on exactly where to buy all of this hockey home gym equipment here.
I hope this showed you that owning a home gym is something that can be a game-changer for your hockey performance and that you can implement it into any existing hockey training program, no matter how advanced it is.
If you want more information on what you can do with all of this newfound equipment right in your own home, join the Hockey Skills Accelerator where you'll get access to our best hockey training programs that tell you exactly how to train to become a better hockey player. Join Here!