In this article, I interview Dr. Riyad Khamis who is a local visual expert here in Canada.
He has a unique and fascinating practice where he trains amateur athletes, minor hockey players, OHL, and NHL athletes to improve their visual performance on the ice.
We get a lot of questions here at Hockey Training about what hockey players can do to improve their "hockey sense" on the ice, so I was more than happy to take the time to connect with a real expert to let you know how vision can play a role in that.
For your reference, my text will be bold and he will be in the standard text. Let's get into it!
Coach Dan: First off, thanks for agreeing to do an interview with me here amidst your hectic schedule. I want to start off by opening the floor up to you so you can tell the hockey players and parents here who you are, where you're from, and what you do in the hockey performance world.
Dr. Riyad: Thanks, Dan. My name is Riyad Khamis I am a developmental optometrist based in London, Ontario.
I grew up in Kincardine, Ontario and started playing and watching hockey when I was 4 years old – safe to say I am a huge fan of the sport!
I went to the University of Waterloo where I completed both my undergraduate degree and then my Doctor of Optometry.
I then went to Northeastern State University (NSU) in Tahlequah, Oklahoma where I completed a residency focused on Sports Vision Training and Vision Rehabilitation for those who have suffered concussions, and Vision Therapy for children with lazy eyes or who are struggling with reading.
I served as the faculty advisor for sports vision training at NSU and I worked with college athletes looking to get the visual performance edge.
In 2017, I moved back to Ontario and started the innovative London Vision Development Centre where I have worked with and trained amateur athletes, minor hockey players, OHL, and NHL athletes to improve their visual performance on the ice.
Coach Dan: Awesome!
Given the high volume of experience and education you have, I wanted to circle this interview around two major concepts – the "big picture" and the "small picture" – in that, all of us as coaches have a vision for what the typical off-season or in-season should look like from a "big picture" periodization perspective, but then need to fill that with many "small picture" training weeks and individual workouts.
Let's start with the big picture, from a month-by-month perspective, what can a high-performance athlete expect to see/experience once they come to you?
Dr. Riyad: When looking at the big picture, our goal is to improve on-ice performance.
That can include a better save percentage for our goaltenders, or better offensive and defensive output for forwards and defenders.
An old sport saying is "the eyes lead the body": clearly, vision plays a critical role in our sports performance.
Athletes spend hours and hours in the gym, training their muscles and improving nutrition, but sometimes vision can be overlooked.
The eyes are also controlled by muscles and similarly, visual skills can be trained for better visual performance on the ice.
There are over 20 visual skills required when playing hockey and only a few of these are tested during a general eye exam.
We dig deep and analyze our athlete's visual performance and month by month, the athlete can expect an improvement from their initial visual performance, as well as an enhancement of critical sport-specific visual skills they have been developing from a young age.
There was a University of Cincinnati study that showed that when their athletes underwent sports vision training and peripheral vision awareness training, the number of concussions dropped 80% from their prior seasons, as their athletes became more aware of the blindside hits.
This is extremely encouraging as we continue to try and improve the safety of our hockey players starting from a young age.
Coach Dan: That's fascinating, to see an 80% drop is incredible. I'm surprised more people aren't talking about this! I'm really glad to have you on board here to get this message out.
Now moving into the "small picture" side of the equation, is there a typical way you like to set up your training week? Does your type of training require rest/recovery from session to session? And what would an example session look like for an elite hockey player working with you?
Dr. Riyad: Yes, so once the athlete goes through our full and comprehensive visual performance evaluation, we then make a custom, individual training plan depending on the hockey player's position, strengths, weaknesses and on-ice goals.
From a visual acuity standpoint, I want my hockey players seeing 20/15 or better.
This is at least one line better than the traditional 20/20, which is considered "normal acuity" during a regular eye exam.
We can use specialty sport-specific visual correction (such as sports contact lenses) to achieve this. We typically have the athlete come in to our "eye gym" once or twice a week and each session we rotate through various critical visual skills training.
Examples include peripheral vision awareness, eye tracking, eye focusing, eye-hand coordination, eye jumps, visual information processing, contrast sensitivity, depth perception, fixation accuracy, visual recognition, and visual memory – lots to work on!
We use innovative technology such as the fit light visual trainer, the liquid crystal strobe training goggles, and even virtual reality vision training where we can work on important visual skills while the athlete is performing tasks in virtual reality.
We then prescribe at-home vision exercises typically done 3-4 times a week for 10-15 mins.
The athlete also receives a "vision warm-up" kit that can be done on game-day to help prime their visual system for maximum performance during the game.
Finally, we also include a visualization session that many NHL and high-performance athletes find critical in their pre-game routines.
Our hockey players learn to visualize success and can get into a focused mindset prior to hitting the ice. For our athletes that cannot make it to our facility, we also offer remote vision training/coaching.
Coach Dan: That's great, really gives everybody a broken down insight as to what a training week looks like in your practice and just how "complete" your approach really is.
Now, because we have a lot of young hockey players (8-14 years old) who check out this site to improve their performance, I think it would be super valuable if they could hear from a guy with your level of experience what you think would be the #1 thing a young hockey player should do in order to become the best version of themselves?
Dr. Riyad: One piece of advice I would give to young hockey players is to never lose your passion to learn.
Every day, I try to learn new things from my mentors, coaches, and the athletes I work with.
Technology, training, and performance continues to evolve for elite athletes and there are many great resources and tools to improve performance.
Having a mindset that is always ready to learn, whether it's during sports, in the classroom, or during your daily routine will put you on the track to success.
The most successful high-level athletes I have worked with have a thirst for knowledge and learning, and they are always ready to take what they have learned and put it into practice.
This helps them get better during every training session, which ultimately shows during their in-game performance.
Coach Dan: AWESOME answer! I completely agree with you and think that passion plus curiosity is an incredible combination to have in your mental arsenal for hockey performance.
One last question I love asking people in your position – Do you have your athletes undergo any testing protocols to identify their "weak links"? If so, could you provide an example test and "solution" to their problem?
Dr. Riyad: Great question!
Yes, we perform a comprehensive full sports visual evaluation prior to coming up with a training plan for our athletes.
We can identify any weaknesses in an athlete's visual system that may have been overlooked in the past.
I have worked with NHL players where we have identified areas of weakness in their visual system and they have achieved success by fixing these weak links.
Recently, we worked with a high-level hockey goalie. One of the things she noticed was that by the end of the game, her eyes would feel tired and she had more trouble focusing.
From a young age, she kept up with her eye exams, had normal results, and had never been prescribed any visual correction.
I had worked with her team during a hockey camp and she was very interested in sports vision training.
During her evaluation, we found her focusing system was her weak link, and her visual focusing system would get fatigued by the third period or when games went into overtime.
We also found that her visual system performed better when she was looking to her left (her glove side) and performed less efficiently when looking to her right side (her blocker side).
We determined this during our initial testing using a visual-spatial analysis tool. I prescribed sport-specific contact lenses for her to wear during her games to help with her focusing system and she underwent a sports vision training program.
We worked on all of her visual skills and her eye-hand coordination speed increased, her visual tracking improved and her focusing system normalized and even exceeded the norms for her age.
As a result, her on-ice performance, especially late in games increased and her save percentage increased.
We put an emphasis on improving her peripheral awareness and visual processing on her right side and her coach noticed that her blocker side became stronger.
She mentioned that her eyes no longer become fatigued at the end of games, and as a side benefit, her reading performance in school has also improved. She continues to train with us and she has excelled both on the ice and as a student of the game.
Coach Dan: Awesome stuff! Thank you so much for your time, let the people know where they can find you.
Dr. Riyad: We are located on 448 Oxford Street East, in London Ontario.
You can reach us by visiting our website www.londonvisiondevelopment.com, sending us an email at londonvisiondevelopment@gmail.com, or by phone at 226-663-7111.
Besides sports vision training, our center also specializes in vision rehabilitation for those who have post-concussion syndrome or vision therapy for children with lazy eyes or who are struggling with reading and school work.
I have attached a sample of a player screening report from a hockey camp we did recently.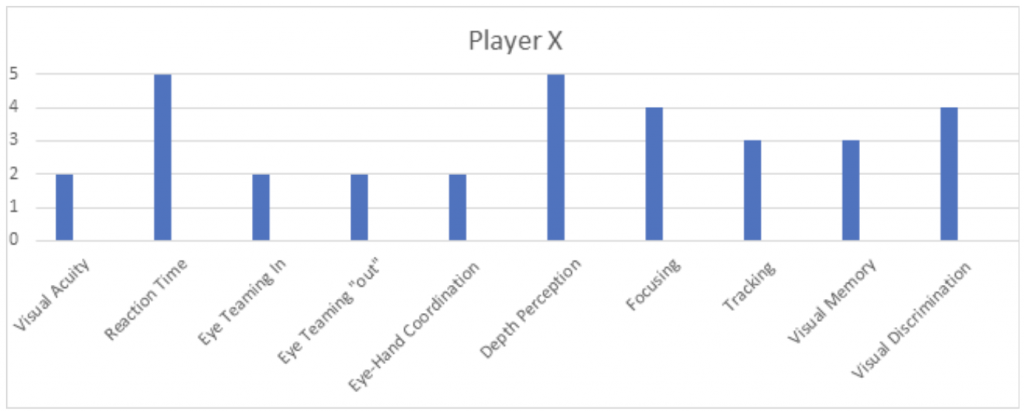 Visual Acuity: 20/25
Recommendations: I would start by fitting X in sport contact lenses. Daily sport contact lenses will help X get to 20/15 visual acuity and see the puck better. X's reaction time is great and X shows great reflexes.
However, X's binocular vision (the ability of the eyes to work together) was below average and visually fatigued at the end of games that could manifest itself.
With the Strobe glasses that simulate visual stress (screens, visual fatigue, visual distraction) X showed great balance and great glove hand, however, struggled more with the lower blocker side when fatigued.
Final Recommendation: Vision correction, neuro-sensory sports vision training.
Dr. Riyad Khamis O.D, F.A.A.O, F.C.O.V.D. – London Vision Development Centre