Hockey is evolving at a rapid rate.
More progression has happened in the past 20 years of hockey than in the 50 years before it.
Training methods, fueling protocols, recovery strategies, accessible sports science literature, the information age of the internet, new equipment technology, innovative shifts in app design, and a reorganization of the rule structure has completely changed the game from the top down. Footage of a game today is totally different from 15–20 years ago.
One of the biggest differences you'll note from the best players in the world is the shift away from only using crossovers to turn—now they are using crossovers to go forward as well.
This is known as linear crossover skating and, when mastered, is a tool that will make you one of the most dangerous players on the ice.
You can think about it as using crossovers to propel you up ice, alternating two to three strides to the right and two to three to the left in a continuous back-and-forth fashion. Below you will see examples of Nathan MacKinnon and Connor McDavid using Linear Crossovers to blow past opponents.
Nathan MacKinnon Linear Crossover Example
Connor McDavid Linear Crossover Example
This is much more difficult to defend as you're coming through the neutral/offensive zone. Not only are the defenders forced to commit to your direction change, but you also have much better puck control since you're truly puck handling and not just pushing the puck straight, as most do when just standard forward skating.
Not to mention, when done properly, you will become an even faster skater due to your propulsion mechanics. It's no mistake why MacKinnon and McDavid regularly use this technique, as it allows them to blitz by their opponents and maintain puck control in the most efficient and effective way to create more scoring opportunities.
But here's the thing: your ankle is at an extreme angle during crossovers, so if you want to maximize this technique, you're going to need some serious ankle mobility and stability to provide the correct angles and force output.
Additionally, the adductors play a significant role here. They are one of the primary muscles allowing you to create more force by pushing your leg under during a crossover for more power output per stride.
Luckily, we can train all of these qualities in a dryland setting so you can take these traits with you on the ice to become proficient in the linear crossover.
Training the Ankle for Better Crossovers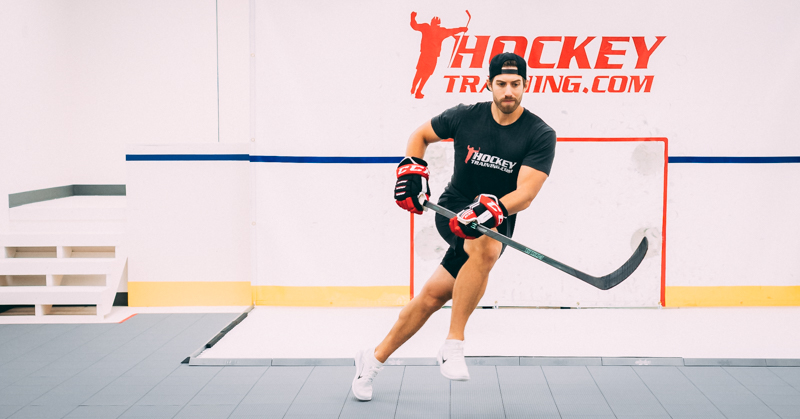 Ankle mobility and stability play notable roles in stride power and minimizing energy leaks to maximize stride efficiency.
When you increase mobility, particularly dorsiflexion, you can maintain a lower skating position and increase the range at which you are able to produce force, which contributes to stride power.
Additionally, optimal ankle mobility allowing you to remain low and prevent the toe of your skate from touching the ice has been demonstrated to reduce air resistance as well as unwanted friction (which reduces both the efficiency and fluidity at which you can skate down the ice).
The counter to all of the mobility benefits is that they don't mean much of anything unless you have the stability to back it up—specifically during change of direction, backward skating, and, you guessed it, crossovers.
Your ankle needs to be stable in order to maintain the integrity of the kinetic chain during a skating stride pattern.
"Kinetic chain" is a term rooted in the world of biomechanics that represents the idea that joints affect each other in a "chain reaction" when working together to create movement patterns.
If all joints in the movement pattern have optimal mobility and stability, the kinetic chain will have no weak links and you'll be good to go. However, if one of the joint structures lacks one or both of these qualities, it will create a movement compensation that will ultimately impact the movement quality of the entire chain.
This is why you will regularly hear me say "you're only ever as strong as your weakest link in the chain" with respect to structural balance in your dryland training programming.
A skating stride is a total body movement, so the sequenced kinetic chain activation is something you must consider from the ground up.
If your ankle lacks mobility, you will not be able to enter the deep ranges of motion required for optimal technique in the linear crossover movement pattern. Conversely, if your ankle lacks stability, your kinetic chain is weakened from the first muscular contraction, because although you're mobile enough to enter the range of motion, you're not stable enough to generate force at that angle.
This is why you need to marry both mobility and stability in the ankle with your approach to optimal dryland linear crossover training.
Here are three of our favorite mobility and stability drills here at Hockey Training:
ANKLE STABILITY #1 – ONE LEG SPEED SKATING STRIDE ON FOAM PAD
ANKLE STABILITY #2 – 7-DOT SINGLE-LEG IN-AND-OUTS
ANKLE STABILITY #3 – BANDED SINGLE LEG ACTIVE EVERSION/INVERSION
ANKLE MOBILITY #1 – SLIDER DORSIFLEXION GLIDE
ANKLE MOBILITY #2 – SINGLE LEG DOWNWARD DOG BANDED ANKLE STRETCH
ANKLE MOBILITY #3 – 4-WAY SEATED SLIDER ANKLE MOBILIZATION
Training the Adductors for Better Crossovers
To move well on the ice, hockey players must have very well-developed "hockey hips."
This involves many different components of performance development that go outside the scope of this article, but understand that the hip structure is arguably the most unique structure separating hockey players from every other athlete.
With respect to the adductors, they appear to have a special importance relative to the rest of the hip structure.
Yes, all hip muscles are active during skating. But hip adductor activation appears to peak at totally different levels than other hip muscles as skating velocity increases (1).
When you emphasize adductor strength, you both increase your speed and dramatically lower your injury risk. You don't have to speak to too many hockey players before you run into one who has strained their groin. Believe it or not, this is quite predictable and is normally a function of hockey players neglecting their strength training and/or doing specific physical preparedness (SPP) work too often (2, 3).
I want to point you to a great study that came out in 2017 demonstrating how it's during crossovers when the adductors are most active (4). So although linear crossover skating can make you a dominant hockey player, you're at a greater risk of injury performing the movement pattern if you are a hockey player who regularly skips their strength training.
Many hockey players assume speed only ever comes from their field work, and although there's a lot of truth to that, your speed is also built in the gym and this is an undeniable example of that.
Stronger adductors will give you more propulsion power in the linear crossover and prevent you from getting injured while you're at it.
Here are a few of our favorite exercises for adductor strength for quick results in the world of linear crossover development:
ADDUCTOR STRENGTH EXERCISE #1 – COPENHAGEN PLANK
ADDUCTOR STRENGTH EXERCISE #2 – PUCK BETWEEN THE KNEES HIP THRUST
ADDUCTOR STRENGTH EXERCISE #3 – LATERAL SLIDER LUNGE
Now that you have an adductor strength foundation in place, you can start incorporating some incredible high-velocity drills for linear crossover training. These are some of the top-tier movements we use here at Hockey Training to develop linear crossover specific performance gains:
HIGH VELOCITY LINEAR CROSSOVER DRILL – MCDAVID LINEAR CROSSOVER
HIGH VELOCITY LINEAR CROSSOVER DRILL – CARIOCA, FWD SPRINT, CARIOCA
HIGH VELOCITY LINEAR CROSSOVER DRILL – TURNOVER TRANSITION SPRINT
Putting It All Together
If you're a serious hockey player who wants to reach their hockey dreams and understands that the acquisition of these three qualities is the key to blowing by your competition, then the brand new Breakaway Speed Kit™ is exactly what you need.
The above information you learned today is already filtered into an NHL-caliber program and is your complete "done for you" solution to explosive speed development.
The all-new Breakaway Speed Kit™ utilizes the best training tools alongside the 30-Day Breakaway Speed 2.0 System and was designed to take all of the guesswork out of it so you can use this methodology in the exact same way as an NHL hockey player.
This complete hockey toolkit includes the Edge Work Enhancer Ladder, Explosive Speed Rings, Hockey Reaction Ball, Athletic Movement Bands, Balance Foam Pad, Skater Sliders, and the brand new 30-Day Breakaway Speed System, which you can perform no matter what age you are or what access to equipment you currently have.
Remember, if your hockey performance isn't great right now, it's not your fault. We learned that above from so many coaches passing down old and outdated training styles.
Real progress comes from real hockey-specific training, and this type of plateau-busting programming only comes from a hockey performance specialist who is able to break the status quo and get you the exact program you need as a dedicated and hungry hockey player.
You can't find hockey-specific results in a non-hockey-specific program, and this is something rarely talked about in the hockey world. Most people just exercise, but after reading this article you can start to see how "exercising" makes up a very small portion of what true training you should be doing to get NHL-like results.
The days of guessing and hoping you will be a better hockey player are over; get instant access to the 30-Day Breakaway Speed 2.0 System here so you can leave fans, coaches, and scouts' jaws on the floor with how much progress you have made in a single month of training.
Final Thoughts
Although the entire sport of hockey has evolved in recent years, one of the most powerful elements of this progression is the notable difference between those who can linear crossover properly and those who can't.
In many cases, this is not due to a lack of dedication, talent, or ability, but rather lacking the dryland structured training that is required to support the adoption of rapidly accelerating in a new technique.
If you want to know exactly how to get the job done, I can't recommend the Breakaway Speed Kit™ enough. It's our most complete approach to maximize all metrics of speed development in less than a month—and I know it will make you an all-around more explosive skater.